Strengthening our strategic autonomy after COVID-19 : for a Franco-European approach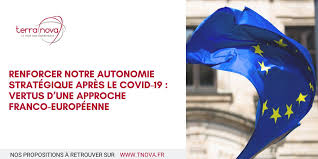 Download pdf
COVID-19 fuels a welcome debate on the excessive dependence of France and the European Union on China and other countries. As the imperatives of day-to-day crisis management gradually fade, it is necessary to draw all the lessons from this virus and to better understand the issues and potential impacts of the debate it raises on strengthening our strategic autonomy in economic and industrial matters.
This is the purpose of this Study carried out on behalf of Terra Nova, which underlines the need to think and act on the basis of a France-European Union (EU) balance that remains to be determined in liaison with our continental partners, and on the basis of three sets of considerations :
1 – firstly, the identification of the proportions, scales (France-EU-International) and sectors on the basis of which our strategic autonomy must be strengthened;
2 – secondly, highlighting the usefulness of communitarian ordo-liberalism as the basis of our strategic autonomy;
3 – lastly, the mobilization of the most effective national and European tools in order to achieve our objectives in terms of strategic autonomy.